Anti-Fascist Films: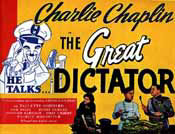 Charlie Chaplin directed and starred in his first talking picture, The Great Dictator (1940), almost five years after the release of his last silent film, Modern Times (1936). It was a war-time, anti-fascist, satirical, thinly-veiled lampooning of the Third Reich and its dictatorial leader (rare among American films) in which a Hitler-like, despotic tyrant named Adenoid Hynkel ruled the kingdom of '(P)Tomania.' Its most memorable scene was the one in which Hynkel dances and tosses around a giant world globe/balloon.

Chaplin's next film was another departure from his Little Tramp character - Monsieur Verdoux (1947) (in which Chaplin directed, produced, wrote, scored, and starred). A satire about a woman-murdering Parisian bank cashier, it received a Best Original Screenplay nomination. It bombed at the box-office upon release due to anti-Communist hysteria directed at Chaplin and the film's banning - Chaplin pulled it out of circulation for many years.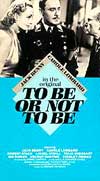 German star Marlene Dietrich, after becoming a US citizen in 1938, made a number of morale-boosting films, and other German and/or Austrian expatriates (Conrad Veidt, Sig Rumann, and Walter Slezak) risked personal popularity by playing roles as detestable Nazis in such well-known films as Casablanca (1942), To Be or Not to Be (1942), and Hitchcock's allegorical war-time survival tale Lifeboat (1944). The Spanish Civil War served as the backdrop for Hemingway's romantic drama adaptation For Whom the Bell Tolls (1943), starring Gary Cooper and Ingrid Bergman.

German-born Ernst Lubitsch directed the anti-Nazi farce of a theatre couple outwitting the Nazis in To Be Or Not To Be (1942). It starred Jack Benny as Polish actor Joseph Tura, and was noted for the line: "So they call me Concentration Camp Erhardt." Shortly after the film's release, one of the its stars, Hollywood's beloved Carole Lombard (blonde wife of Clark Gable), died at the age of 34 in a tragic airplane crash near Las Vegas.



Biggest Box-Office Stars and Films: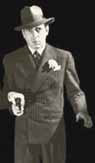 The most popular box-office stars of the entire decade were: James Cagney, Clark Gable, Tyrone Power, Judy Garland, Bette Davis, Mickey Rooney, Spencer Tracy, Bing Crosby, Bob Hope, Wallace Beery, Gene Autry, Gary Cooper, Greer Garson, Humphrey Bogart, Cary Grant, and Ingrid Bergman. In 1946, five of the year's top ten box-office films starred Bing Crosby and Ingrid Bergman - two wholesome and likeable stars.

Twelve-year-old child actress Elizabeth Taylor (born in the UK in 1932 to American parents) became a star after making Lassie Come Home (1943) and National Velvet (1944), her fifth film. The latter film featured a long-shot horse named Pie and Mickey Rooney as a homeless, stubborn ex-jockey. In her first major film role, Jennifer Jones became a star and won an Oscar for her portrayal of a pious St. Bernadette Soubirous who experienced a vision of the Virgin Mary at Lourdes in The Song of Bernadette (1943).

Tyrone Power gave an outstanding performance as heroic Don Diego Vega, son of a 19th century aristocrat and better known as Zorro, combating villainous Captain Esteban Pasquale (Basil Rathbone) in The Mark of Zorro (1940). And in the same year, Errol Flynn starred as swashbuckling privateer Captain Geoffrey Thorpe, better known as The Sea Hawk (1940) in director Michael Curtiz' rousing film. Errol Flynn also starred as pugnacious Irish boxer James J. Corbett, based on his autobiography The Roar of the Crowd in director Raoul Walsh's biopic Gentleman Jim (1942). In another version of Alexander Dumas' novel, Gene Kelly made a foursome as D'Artagnan, joining Athos (Van Heflin), Aramis (Robert Coote), and Porthos (Gig Young) in the Technicolored costume adventure The Three Musketeers (1948).

The most-remembered and career-best film ever made by actor/future President Ronald Reagan was Kings Row (1942). After losing his legs, his character posed the famous, horrifying question: "Where's the rest of me?" Humphrey Bogart didn't become a major Hollywood star until 1941, until after he had played the role of a gangster in The Petrified Forest (1936) (in a role he had played on Broadway), and then when he appeared in his first starring role in High Sierra (1941), and also in director John Huston's The Maltese Falcon (1941). Angela Lansbury made her film debut in Gaslight (1944) (aka The Murder in Thornton Square), with Ingrid Bergman slowly being driven insane by her husband Charles Boyer.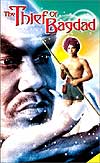 Basil Rathbone regularly starred in the 1940s as the popular, modernized fictional detective originally created by Sir Arthur Conan Doyle, as in Universal's Sherlock Holmes and the Voice of Terror (1942), Sherlock Holmes and the Secret Weapon (1942), Sherlock Holmes Faces Death (1943), and The Scarlet Claw (1944) - with his loyal sidekick Dr. Watson (Nigel Bruce).


The Tarzan franchise of films, begun in the early 30s, continued into the 40s. Johnny Weissmuller appeared only twice more with Maureen O'Sullivan in MGM's Tarzan's Secret Treasure (1941) and Tarzan's New York Adventure (1942). Weissmuller's further exploits in only six more RKO films included: Tarzan Triumphs! (1943), Tarzan's Desert Mystery (1943), Tarzan and the Amazons (1945), Tarzan and the Leopard Woman (1946), Tarzan and the Huntress (1947), and Tarzan and the Mermaids (1948).

Greer Garson and Walter Pidgeon starred as Marie and Pierre respectively in Madame Curie (1943), about the discovery of radium. Master showman Cecil B. DeMille directed hunk Victor Mature in the Biblical epic Samson and Delilah (1949), also starring Hedy Lamarr. Britain's biggest sex-symbol in the late 1940s was Diana Dors, whose first notable screen performance (as Charlotte) was in David Lean's Oliver Twist (1948) with Alec Guinness as Fagin. And Best Actress-winning Olivia De Havilland starred as the title character in William Wyler's The Heiress (1949), adapted from Henry James' novel Washington Square, with Montgomery Clift as a jilted, inheritance-seeking suitor.

In 1947, Elia Kazan and others formed the Actors Studio in New York City - a rehearsal group to produce the first generation of "method" actors under the direction of Lee Strasberg. Marlon Brando, Paul Newman, and James Dean were soon to emerge from this approach to acting. In the same year, Universal Pictures Studios merged with the independent production company International Pictures, forming the new Universal-International Studio. The new studio pledged higher-quality productions by eliminating serials and B-movies, and it introduced greater use of Technicolor and double features.

Technicolor became more and more popular during the decade following the success of the richly-colorful The Adventures of Robin Hood (1938), The Wizard of Oz (1939), Gone With the Wind (1939), and British producer Alexander Korda's fantasy adventure The Thief of Bagdad (1940). During the war years, however, technicolor was severely limited and rarely used by studios (except for use in some musicals) in an effort to cut costs. Films often represented authentic, serious, and real subject areas, and a number of B & W films won Best Picture in the 40s:
Rebecca (1940)
How Green Was My Valley (1941)
Mrs. Miniver (1942)
Casablanca (1942/43)
Going My Way (1944)
The Lost Weekend (1945)
The Best Years of Our Lives (1946)
Gentleman's Agreement (1947)
Hamlet (1948)
All the King's Men (1949)

At the end of the decade, acetate-based film was replacing unstable cellulose nitrate stock (which had already caused the deterioration of many older films).



Orson Welles: Boy Wonder and The Greatest Film Ever: Citizen Kane



After causing quite a sensation with his Mercury Theatre on the Air performance of H. G. Wells' The War of the Worlds in 1938, twenty-three year old boy-wonder Orson Welles was given an RKO Studios contract in 1939. That led to the making of probably the greatest American film of all time - his innovative masterpiece entitled Citizen Kane (1941), in which he served as director, co-writer (with Herman J. Mankiewicz), and star. The mosaic-structured film with multiple flashbacks included a memorable musical score (by famed Bernard Hermann) and absorbing photographic techniques such as close-ups, moving camera, low-key lighting, overlapping dialogue and innovative sound editing, deep focus, optical effects, ceilinged sets and innovative camera angles - due mostly to the genius of cinematographer Gregg Toland. It was largely made in secret, due to harsh criticism by newspaper magnate William Randolph Hearst (Kane's character loosely resembled the newspaper tycoon's life) who made every effort to stifle the film's release and distribution. [It was rumored that Rosebud, the final deathbed words of Kane and the name of his boyhood sled burned in the furnace in his Xanadu palace, was the pet sexual nickname Hearst had for his movie star/mistress Marion Davies.]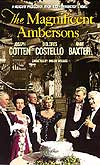 Welles followed Kane as writer, producer and director of The Magnificent Ambersons (1942), another great film that was adapted from a Booth Tarkington novel to evoke nostalgia for America's turn-of-the-century past. After its premiere, RKO ordered the severe editing and butchering of the film by editor Robert Wise and tacked on an artificial ending, but the film still failed financially and led to the demise of the studio. Joan Fontaine starred as the title character heroine opposite Welles as the definitive Rochester in an adaptation of Charlotte Bronte's best-loved gothic romantic novel, Jane Eyre (1944), co-scripted by Aldous Huxley.

Welles also acted as the enigmatic Harry Lime character, and provided the famous "cuckoo clock" speech, in director Carol Reed's British noir classic The Third Man (1949) (produced by Alexander Korda and David O. Selznick). It was set in war-ravaged Vienna and featured unsettling zither music. Reed's The Fallen Idol (1948) was another of his adaptations of Graham Greene stories. After the financial failure of Welles' film noir The Lady from Shanghai (1948), he moved to another studio (Republic Pictures) to star in, produce, and direct Shakespeare's classic tragedy Macbeth (1948). After the release of the low-budget, expressionistic film that wasn't entirely successful, Welles left for Europe and exiled himself away from Hollywood for ten years.

Source : http://www.filmsite.org/40sintro2.html